Female Founder Feature: How Amanda Wittenborn, Founder of Amanda Creation Inc., Chose to Pivot Her Business in the Midst of Covid-19 and Found Huge Success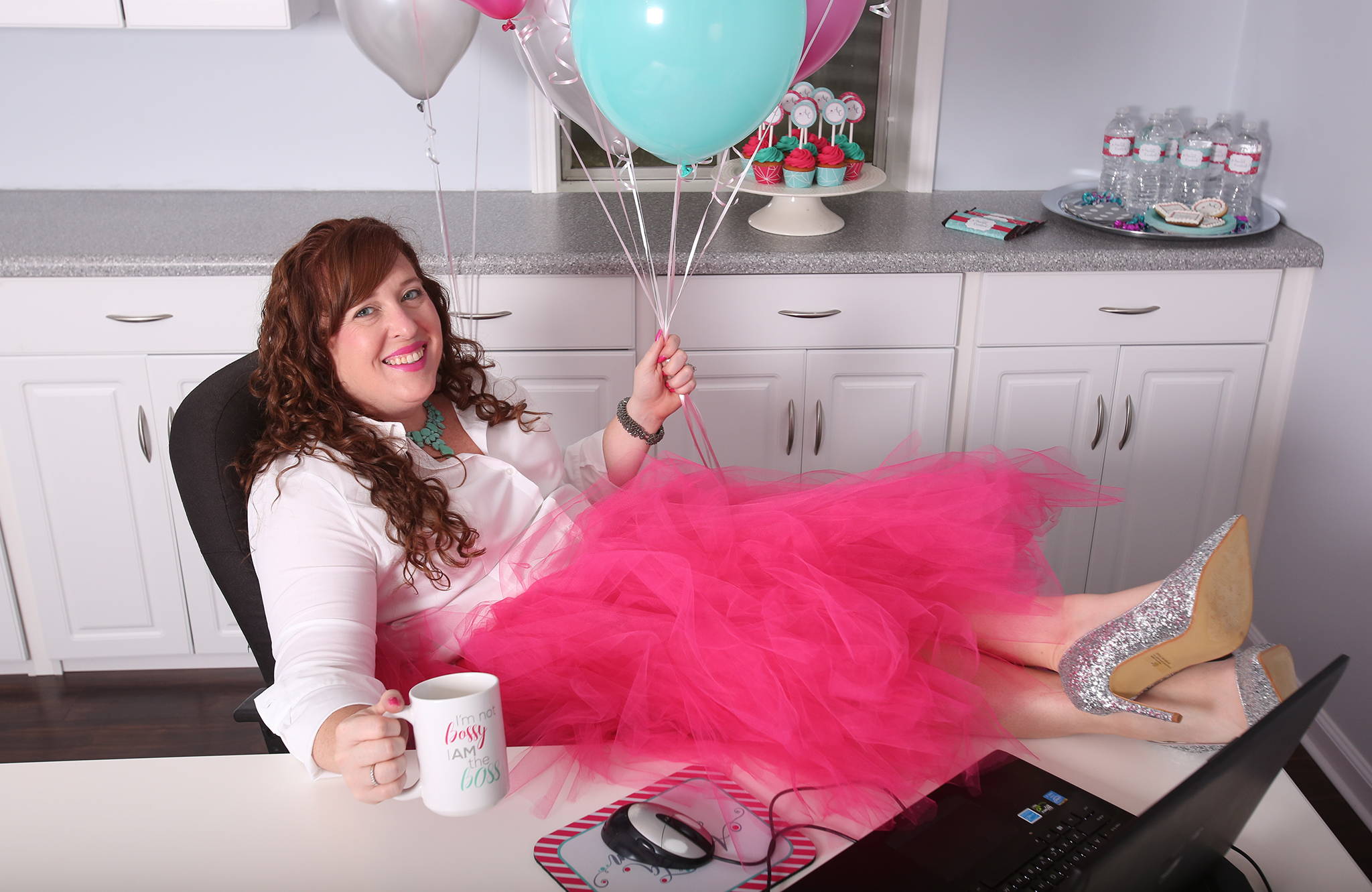 This week in our Female Founder series, we have a chat with Amanda Wittenborn the vibrant and creative owner of Amanda Creation Inc. Amanda fell in love with graphic design years ago and has always had an eye for beautiful details and party designs. Being a true entrepreneur at heart, when she began to realize she could do things better than the big box stores, she decided to take the leap and start her own business creating designs for all your party needs!
Keep reading to learn about her huge success, about how she didn't give up when COVID hit and how she chose to fully pivot instead, and about where she is now and her goals are for the future!
Canary + Co: What is your name and your business? Where are you located?
Amanda Creation Inc: I'm Amanda Wittenborn, owner of Amanda Creation Inc., A design agency that specializes in unique & colorful party supplies and stationery items to bring joy and help you celebrate every day. We are based in the suburbs of Chicago Illinois.
Canary + Co: How did you get started? What was that initial, "let's do this!" moment?
Amanda Creation Inc: I have been creative and entrepreneurial my whole life. I've never really had a "real" job, I've always run my own business from teaching piano and voice lessons, to doing nails, to now running an e-commerce party supply and stationery business. My current business kind of morphed into what it is now. I started out by selling party printables just to make a little extra money on the side while I raised my boys. As that grew I realized that customers would be thrilled if they could receive the party items ready to go without having to mess with printing the files and cutting everything themselves. So about 6 years ago I started selling physical products and it's been growing like crazy ever since.
C+C: What is your biggest accomplishment so far?
Amanda Creation Inc: 2 years ago I had built my business up enough for my husband to quit his job and come work with me. The fact that we control our time and no one has a say in how many vacation days he can take a year is by far the best thing I have ever done.
C+C: What is your biggest struggle/toughest time in career/small business/life? How did you pull yourself out of it?
Amanda Creation Inc: The most difficult thing we have experienced is when Covid happened back in March 2020. Being a party supply company, our sales dropped by 95% as no one was able to have parties anymore. That was quite a scary time as the business is our only source of income. So if we aren't selling product, we aren't making money to pay bills. I got to work quick and started thinking of what people could still need even in a time like covid. I started designing all sorts of new items, and the one that stuck was a set of teacher postcards for teachers to send to students. It went absolutely crazy and became the number one best seller on Amazon in the postcard category within 4 days. I have spent the past few months building out our stationery line which is doing quite well, and after all is said and done we now have 2 companies, a party supply company and a stationery & gift company. We are actually doing better than we were before because of such a huge obstacle.
C+C: What are your future goals?
Amanda Creation Inc: We have plans to create a whole new brand with the stationery and gifts. We will be building out a separate website and social media for all of those items. We'd like to start getting some of our unique stationery items into retail as well. As parties start to pick back up we have plans to create fully matching lines of party items that include paper plates, napkins and cups so you can get a full party set from us and have a coordinated party without having to shop around.
C+C: Who inspires you the most? And who would be your ultimate mentor (dead or alive!)?
Amanda Creation Inc: I am most inspired by entrepreneurs that are going after their dreams. The every day person that just decides what they want and they go for it. It's super rare, so when I see someone actually living their dream and their purpose I am hugely inspired by that. I don't know if I have an ultimate mentor. There's a lot of people out there with a lot of good ideas to learn from. I am a fan of Brene Brown, Jack Canfield, and Oprah.
C+C: What is a fun fact about yourself?
Amanda Creation Inc: I am close to level 2 certified in Krav Maga. I took 18 months of lessons before covid hit and was just about to test for level 2 before we got locked down. I miss it so much. It was a great stress release and it was practical. I know how to break bones and protect myself if ever necessary.
C+C: What is one piece of advice you would give for up and coming female entrepreneurs?

Amanda Creation Inc: You have to work on getting out of your own way. Talk to coaches that will help you push self doubt aside and work through imposter syndrome. I think it's very common for female entrepreneurs to not realize the value of their own gifts. The sooner you can see your value and acknowledge it, the faster you will have success.
C+C: A big part of designing our bag collections is ensuring we can help women be a little more organized and enable them to #domoredaily. Give us an idea of your typical, every day schedule!
Amanda Creation Inc: I typically wake up around 7 and start my day with a fresh cold pressed juice. I go for a mile long walk with my husband and we talk about all the things going on in the business and kids lives to kind of get organized for the day. Once I get home from my walk its time to work for a while. There's frequent breaks and interruptions from my sons, especially my 6 year old who likes to cuddle and see what I am working on. We all have lunch together, then it's time for some afternoon coffee and sitting in the yard for a few minutes with my husband to enjoy it. We both work for a few more hours and wrap it up around 3-4pm for time with the family. We all have dinner together and then we all go out for another mile long walk each night together. When the kids head to bed, hubby and I usually watch a show on Netflix and we call it a night. As a creative person I don't love schedules all that much and I like to work on whims, so it's nice having my own business that allows for that. Some days are a lot more productive than others, but it balances out over time. I look forward to my 2 walks a day, time to just de-stress and talk through things.
C+C: What is 1 productivity tip or remote work tip you have used in quarantine that helps?

Amanda Creation Inc: My morning walk is probably the best thing that I started in quarantine. Just getting up and moving first thing in the morning is great for the body, and then talking through things helps set me up for what I need to focus the most on for the day.
C+C: Plug your business! Where people can find you, any future events coming up?
Amanda Creation Inc:
You can find us on Find our shop at www.amandacreation.com
Facebook: @AmandaCreation
Instagram: @a_mandacreation
pinterest: @amandacreationinc