A Candid Conversation with Amelia Earhart's niece, Amy Kleppner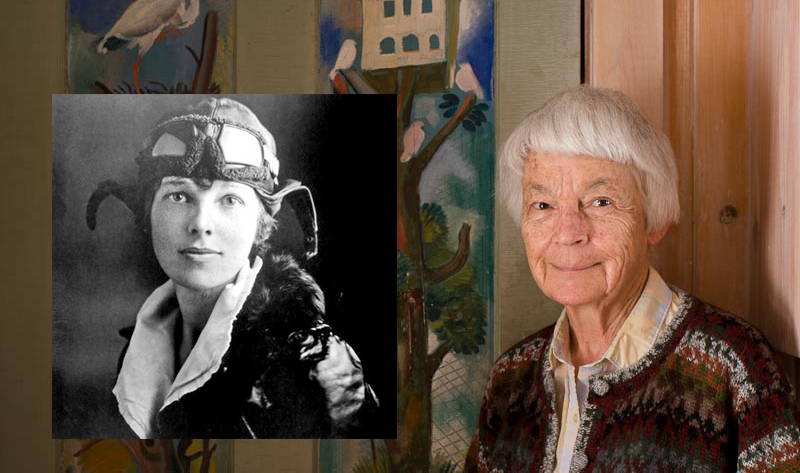 Photo Credit: Anthony Reczek and CSU Archives-Everett Collection
Amy Kleppner is the daughter of Muriel Earhart and the niece of Amelia Earhart. She graduated from Smith College in 1952, and continued her education while working various jobs, earning both an MA, and a PhD. With a love for teaching, she taught Philosophy at numerous Universities and later taught English at Walt Whitman Highschool, in Bethesda Maryland. At present, Amy is retired and living in Vermont. She devotes most of her time to writing and is a lifelong hiking and kayaking enthusiast. It is easy to see an adventuring spirit and a passion for life must run in the family.
Canary + Co: We hear you are writing a book on Amelia and feminism right now! We can't wait to read it. What is the most important lesson or piece of advice you have taken from Amelia that you have used in your own life?

Amy Kleppner: I think it would be "Be adventurous". Try new things, don't be afraid to fail.
C+C: It seems as though you are just as ambitious and adventurous as your mom and aunt- is this something that runs in your family, or did your parents have a certain parenting style growing up that made you just reach for the stars and try everything?
AK: I don't really think ancestry is so important here. My parents' parenting style would be described now as free range. This provided a lot of freedom but it also had its dangers. For example, when I was riding my bike to school as a second grader, I managed to crash into a car and was lucky to escape with a few scrapes. Also, I knew personally two children who drowned while playing in the neighborhood or nearby. So, while providing children with a lot of freedom is wonderful, it does have some drawbacks.
C+C: What is one piece of advice you would give to young women who might want to live a more untraditional life (through travel, careers)?
AK: Just do it. Be adventurous, try new things.
C+C: Even though ambitious women have made great strides, thanks to the help of women like Amelia, it seems like we still have a bit to go. Even starting this business, Canary + Co, has had its gender-related challenges. I know Amelia fought her way into the aviation industry- what do you think helped her persist?
AK: AE was interested in the status of women from an early age. She compiled a scrapbook about women who had nontraditional jobs, mainly in male dominated fields. She wanted women to achieve greater equality in the aviation industry. For example, she hoped that women would be able to fly commercial aircraft eventually. She persisted because she loved aviation and she also was passionate about achieving equality for women.
C+C: What has been your most favorite adventure you have taken in your life so far?
AK: Probably my favorite adventure was kayaking down the Connecticut River from Canaan, VT to Long Island Sound. I had wanted to do this for 50 years and finally achieved it late in life. Fortunately, several family members helped out by providing support and paddling a second kayak.
C+C: Did you struggle with any gender restrictions in your life whether through your career or education?
AK: During World War II, my brother's cub scout troop participated in an aluminum drive and I went along and helped, too. As a reward, the participants were invited to go to a Red Socks game, but on the day of the game when we met at the gathering place, I was told the event was for boys only. So, my brother went to the game and I went home and cried. I should have written an angry letter, but I didn't. Much later, when I was teaching philosophy at Howard University in Washington DC, my department had invited a distinguished philosopher named Suzanne Langer to speak. The dinner afterward was held at the Cosmos Club in DC. When I arrived with several colleagues, I was told women could not use the front entrance. We went in the side door and I'm told the distinguished visitor did the same. Again, I did not write the angry letter that I should have. When I started college teaching, there were no official gender restrictions other than a nepotism rule at the University of Maryland. But I don't think it was advantageous to be a woman at that time.
C+C: Was Amelia always interested in aviation when she was younger? Where do you think she found this passion?
AK: I think AE became interested in aviation mainly as a result of her visit to Toronto during the first World War. As a nurse's aide at the hospital, she was able to visit the air field and see planes in action, although she was never allowed to be a passenger in a military aircraft. But I think that did inspire her.