Female Founder Feature: How Kate Reimann uses her Business, Rogue Wave, to Impact our World for the Better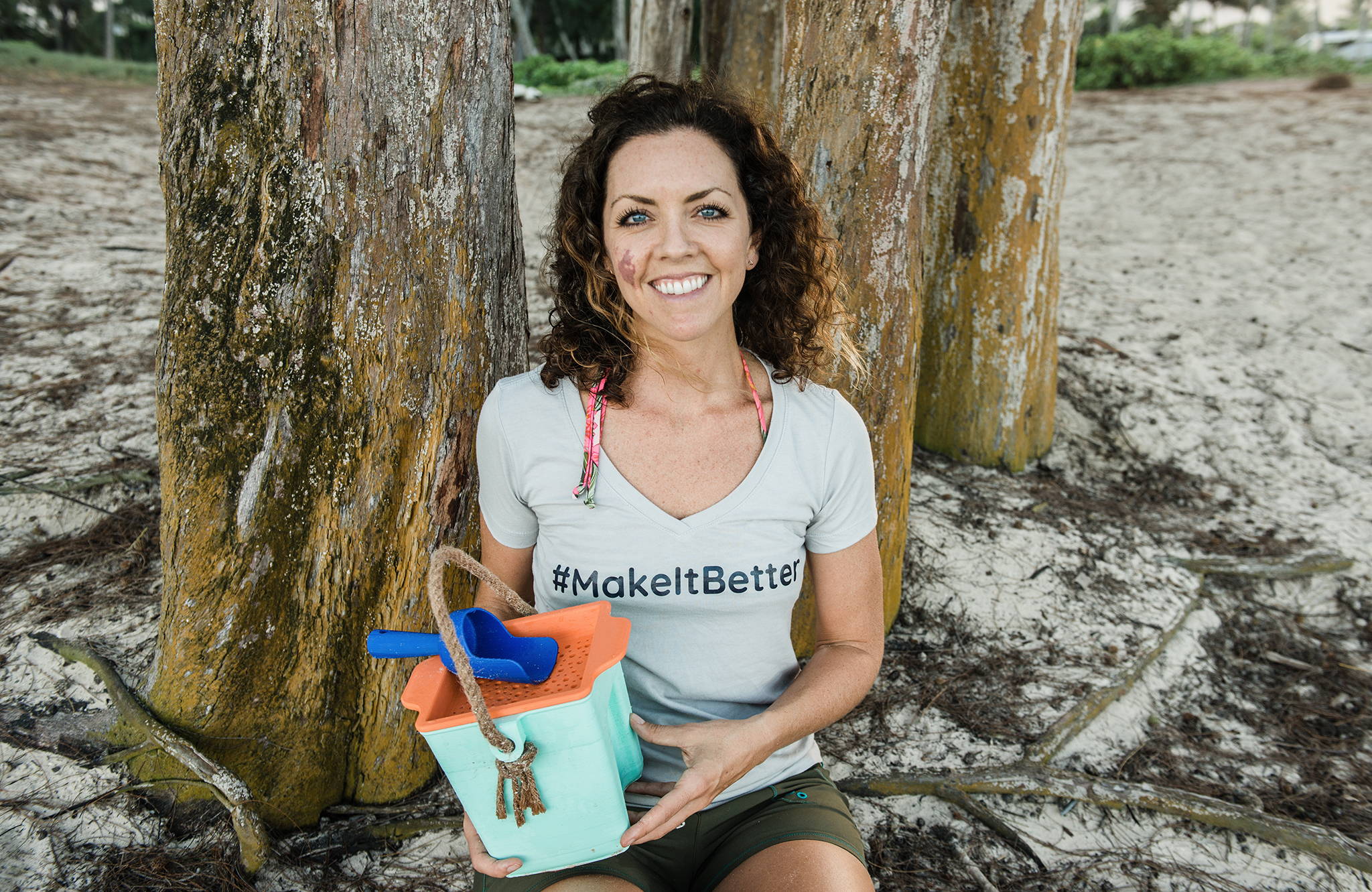 This week in our Female Founder series, we have a chat with Kate Reimann, the passionate Entrepreneur behind Rogue Wave. It's easy for us to spot problems in our world. With products, with the environment, in our day to day lives. It's much harder for us to do something about them. But Kate had the drive and vision to see an issue with how plastic toys were impacting our beaches and oceans, and actually find a solution for it! Not only that, but she was able to take that solution and turn it into a business that is now impacting the world for the better. Talk about leaving a legacy for future generations and inspiring entrepreneurs everywhere!
Keep reading to learn about how Kate started her journey and where she is at today, and be inspired by the purpose and vision she built her company on.
Canary + Co: What is your name and your business? Where are you located?
Rogue Wave: I'm Kate Reimann, the founder of Rogue Wave, and we make certified compostable beach toys using plastic made from plants, not petroleum! We're based in Hawaii (on the island of Oahu) but our supply chain is located on the mainland.

C+C: How did you get started? What was that initial, "let's do this!" moment?
Rogue Wave: For me, this business truly was inspired by a day at the beach with my kids. We almost lost a traditional plastic beach toy set to a rogue wave; I jumped in to save all the pieces from being swept out to sea because I was aware of the enormity of our plastic pollution crisis, especially in our oceans. And when I sat back down on the beach, I thought to myself, why aren't we making better products, products that I don't have to worry about? And that was the beginning of the journey…
C+C: What is your biggest accomplishment so far?
Rogue Wave: I recently won a pitch competition for female entrepreneurs; it was a huge moment for the business and I was competing against two other brilliant female founders for a grant. And, even more meaningful than the money was walking away from that feeling validated – everyone believed solving our plastic pollution crisis was just as important as I did.
C+C: What is your biggest struggle/toughest time in career/small business/life? How did you pull yourself out of it?
Rogue Wave: The biggest struggle personally is that launching a business can be a lonely venture; not many people understand what it's like to launch a product-based business during a global pandemic, and doing it with a material that's more expensive and new to the market makes it even that much more isolating. Professionally, trying to manage the infinite disruptions to our supply chain, which was just getting started as Covid hit, has been a challenge that we are still working through. But supporting my partners, and knowing they're supporting me, and that everyone has been able to stay healthy throughout this moment has helped me work through this – as long as our partners are healthy, we can handle some timeline setbacks.
C+C: What are your future goals?
Rogue Wave: Launching the sale of our plant-based plastic to anyone who wants to make better products with better materials – because the only way to reduce our conventional plastic waste is to create sustainable alternatives. My goal is to make this material more available and accessible to businesses thinking about their product life from start to finish.
C+C: Who inspires you the most? And who would be your ultimate mentor (dead or alive!)?
Rogue Wave: Elon Musk, Patrick Brown of Impossible Foods, Bethenny Frankel – all for different reasons, but they've all done things that were previously deemed impossible. Those are the kinds of business owners who inspire me. Bethenny Frankel in particular as she's built an entire nonprofit to handle crises using some of the money she's made while she was doing what's never been done – I think that's pretty inspiring.
C+C: What is a fun fact about yourself?
Rogue Wave: I have three rescue dogs, five rescue bunnies, two kids, teach spin class, love to surf, and want to be a rock star in my next life!
C+C: What is one piece of advice you would give for up and coming female entrepreneurs?

Rogue Wave: Don't quit. Surround yourself with people who will support you even if they don't always understand the journey. If you have a few people who believe in what you can do, and if you do something every day to further your mission, even something small, you will get it done.
C+C: A big part of designing our bag collections is ensuring we can help women be a little more organized and enable them to #domoredaily. Give us an idea of your typical, every day schedule!
Rogue Wave: I could use more organization in my life! But, I start every morning writing in my planner – this includes a gratitude practice, prioritizing three "to-dos" and scheduling out my day. My planner has an hour-by-hour function that I really love, especially now that my boys have started their online schooling and there's more to juggle. I prefer writing in my planner to a digital planner because it forces me to take five minutes in the morning, sit down, and think through my day and goals. It's a gentle reminder that I am ultimately in control of my day, and that my day doesn't control me. And, I always start the day with a sweat – either with a virtual spin class or a long walk with my dog.
C+C: What is 1 productivity tip or remote work tip you have used in quarantine that helps?

Rogue Wave: "Eat the frog!" I love this expression because it reminds me to tackle the hardest thing first, get it out of the way, and move on. Usually, whatever I think is going to be the biggest obstacle of my day is not as big in real life as I've built it up to be in my mind. Crossing that hardest task off my list first has helped me to keep things moving even when I am feeling overwhelmed.
C+C: Plug your business! Where people can find you, any future events coming up?
Rogue Wave:
You can find us on
Thanks for helping us #goRogue!