Female Founder Feature: The heart behind the beautiful photos of Michelle Lillywhite Photography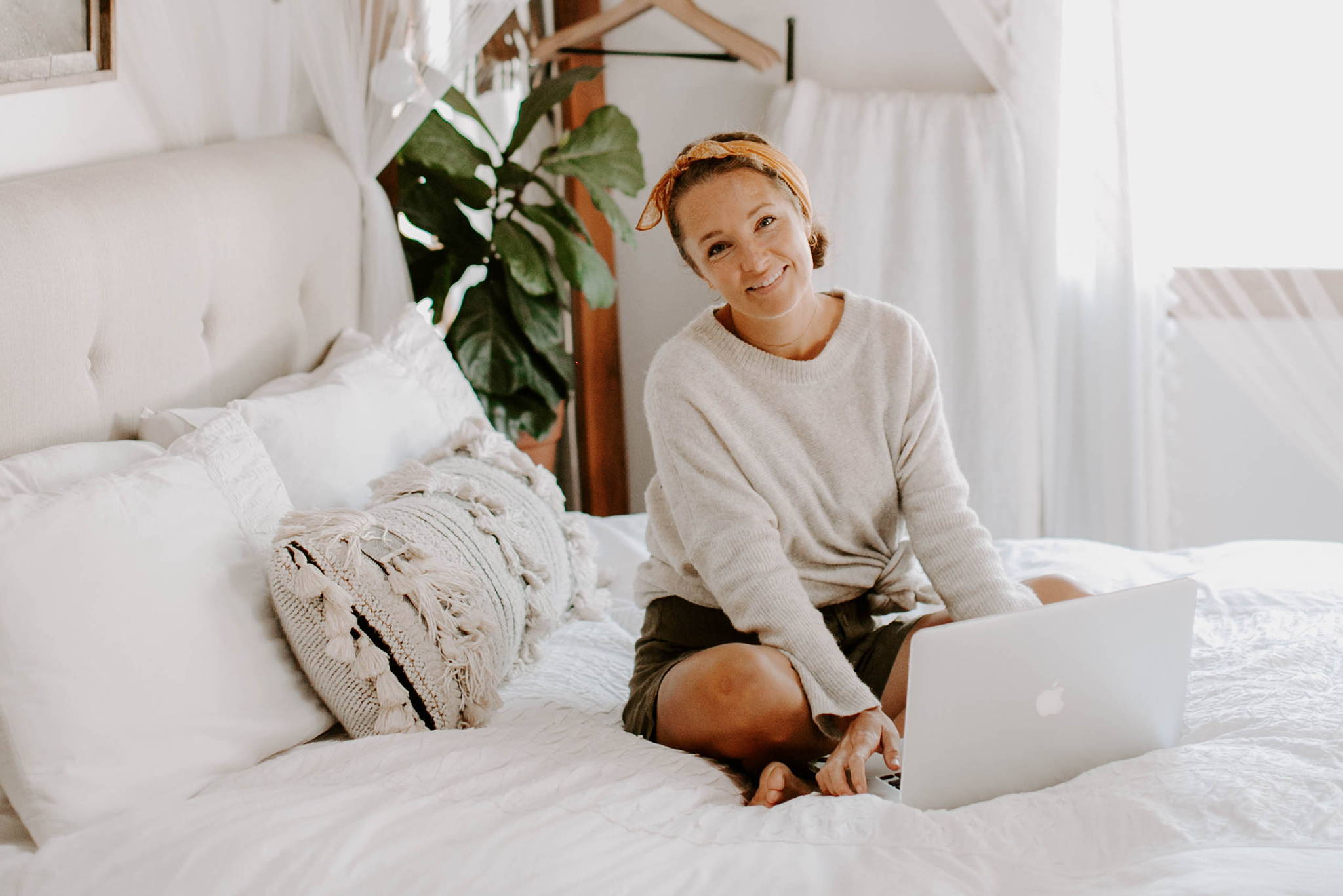 This week on our Female Founder Feature we chat with the inspiring and talented woman behind Michelle Lillywhite Photography. For Michelle, it all started with her Dad's camera and her love for people and nature, and quickly grew into a passion to capture some of life's most valuable moments. With an eye for beautifully framed photos, and a personality that brings out her clients most authentic selves, Lillywhite Photography creates content that will make you swoon. But more than that, Michelle's passion and vision for her business goes far beyond the quality of her content, and inspires people to believe in themselves and be confident in who they are. Read more about her story and her advice for other women seeking to follow their passion and start a business of their own!

Canary + Co: What is your name and your business and/or platform? Where are you located?
Michelle Lillywhite Photography: Hi! I'm Michelle Lillywhite, a wedding, branding + family photographer located in San Diego CA and shooting all over :) I specialize in candid moments that capture the heart + soul.

C+C: How did you get started? What was that initial, "let's do this!" moment?
MLP: When I was in college in 2007, my dad let me borrow his camera one summer. I remember walking around town and falling in love with the way that I could capture the feel of San Luis Obispo. Eventually, people in my sorority started asking me to take photos for their graduation announcements and I fell in love with people photography. It was a slow build but it always felt like the job was meant for me! When my husband and I got married, we moved down to San Diego and I wanted to continue to pursue my dream of being a full-time photographer.It took a couple of years, but eventually, I built a client base for senior portraits as well as wedding clients. I now focus on weddings + branding work but photograph families as well around the holidays! I've recently started mentoring other photographers and absolutely LOVE being able to support others.
I'll be launching a brand workshop in 2020 too! Lots of exciting things coming.Being a part of other's sacred moments fills my heart so big. Looking back now, I loved that it took me a while to get to where I want to be and I'm so thankful for all the people that trusted me in my early years with my old DSLR camera.
C+C: What is your biggest accomplishment so far?
MLP: I think that my favorite accomplishment is hearing my client's reactions to their photos. There is nothing better to me than showing my clients the beauty in their stories. Recently a wedding client of mine told me that seeing her engagement photos helped her to see herself in a beautiful light after years of struggling with body image. I've also heard things like "we can't wait to show these photos to our grandchildren" or "you made us feel so ourselves and so comfortable". It's these comments that continue to push me to show up for my clients, to serve them well and to show them just how dang beautiful they are.
C+C: What is your biggest struggle/toughest time in career/small business/life? How did you pull yourself out of it?
MLP: My biggest struggle as an entrepreneur has been the struggle to keep moving in the slow seasons. It can be difficult to look at what others are doing and feel like maybe you are a "has been" or that you'll never be as good as _____. This has happened a few times to me, but one time in particular in the beginning of 2017 I realized I needed to make a big change. I realized that what I wanted wasn't going to always fall in my lap, so I needed to strategize my marketing, strategize blogging and really step into my ideal client's mind. It wasn't about being like every other photographer, but it was about honing in on my strengths. If I was to hit a slump again, I would definitely hire a business coach to help get me back on track. There are so many experts out there today that can really help you revitalize your business and reach your goals! As I've done that, I've seen my business blossom and grow to where it is today.
C+C: What are your future goals?
MLP: I'm excited to continue to show more of the heart and soul behind wedding days! I'm also excited to educate other photographers and encourage women in their business. Mentoring is a big passion of mine. I'm currently creating two online communities for my clients and other photographers. They are spaces for me to show up and serve and encourage. It's been incredibly fun for me to build these communities and to be able to offer more resources. I see myself 5 years down the road offering products for photographers and opening a few spots a year for mentoring. I also see myself shooting high end intimate weddings and providing my clients with a really hands on and heart-filling client experience. I'd love if a little travel was sprinkled in there too! This year I'll be headed to Big Sur and Yosemite and Mexico!
C+C: Who inspires you the most? And who would be your ultimate mentor (dead or alive!)?
MLP: My mentor Robert J Hill has been absolutely amazing for my business. He helped me build confidence and showed me that business is truly about the heart. It's easy for me to get lost in comparison and he helped me find my strengths. I now approach client consultations with confidence and excitement and I am confident that the right couples will find me.
C+C: What is a fun fact about yourself?
MLP: I could eat cereal 3 times a day and regularly eat cereal on the couch after dinner. One of my best friends got me a spoon that says "cereal luver" for these special occasions hahaha.
C+C: What is one piece of advice you would give for up and coming female entrepreneurs?

MLP: BELIEVE IN YOURSELF. I've seen people who believe in themselves go so far, even without the necessary skillset yet. I've seen people with an incredible skill set be stuck for years because the confidence is lacking. If you're feeling not good enough or scared of charging what you're worth, I highly encourage you to get a business mentor/counselor or life coach. These mindset shifts have been the number one thing that have helped my business grow. We can't serve our clients without a full heart!
C+C: A big part of designing our bag collections is ensuring we can help women be a little more organized and enable them to #domoredaily. Give us an idea of your typical, every day schedule!
MLP: I'm currently pregnant, so sleeping in a bit more than normal, but my normal schedule is:
Wake up 7:00am.
Workout 7:00-8:00 (run, spin, walk with a friend).
Make a smoothie + devotional time. 8:00-8:30
Errands/House stuff: 8:30-10:30
Coffee shop/work from home: 10:30-4:30- My workday normally includes emails, editing, marketing and client consultations.
Shoots if I have them: 4:30-6:30ish
Dinner with my husband/hang with our community 6:30-10:00
Bedtime/reading time: 10:00
Weekends are for weddings/travel/hanging with my husband at the beach or on a road trip!
C+C: Plug your business! Where people can find you, any future events coming up?
MLP: Website: https://lillywhitephotography.com/
Instagram: https://www.instagram.com/michellelillywhite/
Pinterest: https://www.pinterest.com/lillywhitephotography/pins/
Photo Credit: Lillywhite Photography